Fall Gutter Cleaning Is A Must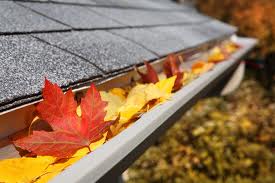 Don't look now, but The Ohio State Buckeyes are playing football, there are brown leaves on the ground and colorful leaves in the trees. Fall is here!
Fall brings OSU football with it, but it also brings damaging dead leaves that can attack your assets and cause problems for you on a number of fronts.
As a property owner, you should always be thinking about protecting your assets. One easy way to protect your roofs, gutters, downspouts, & foundations is to have your gutters cleaned once most of the leaves have fallen. This simple, yet often overlooked preventative maintenance technique can pay huge dividends by preventing just one water intrusion.
Campus Handyman offers a full-service gutter cleaning that includes all gutters, all downspouts, and a roof inspection, including repairs as needed. Be smart and invest in your assets. You are much better off paying a little now than paying a lot later!